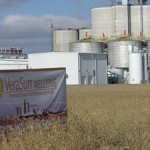 The purchase of seven VeraSun plants by Valero Energy has caused quite a buzz in financial circles and within the biofuels industry. This sale marked the most significant entrance into the ethanol market by an oil company. So what does this mean and who will this benefit? These questions and others will be answered during the interactive webinar:  Who Will Benefit from the Biofuel Industry's Current Distress? The webinar, hosted by INFOCAST, is scheduled for April 2 from 1:00 -2:30 ET.
The webinar will cover several topics including the state of the industry; what the VeraSun Energy bankruptcy auction means for the future consolidation of the industry; possible roles the oil industry will play in the biofuels industry moving forward; predictions on what the biofuel industry look like in the next 1-5 years; and general information about the economic health and future lending opportunities.
To learn more and to register for the webinar, click here.