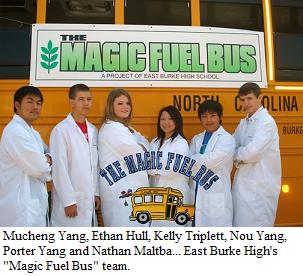 A high school science project has turned into a way for a North Carolina school to save money, save the environment and comply with a state law requiring biodiesel use.

This story from the Burke County (NC) News Herald says East Burke High School, located between Hickory and Morganton in North Carolina, is the home of science teacher Bob Smith and his Magic Fuel Bus team of juniors and seniors Kelly Triplett, Ethan Hull, Nathan Maltba, Nou Yang, Mucheng Yang and Porter Yang have built a biodiesel refinery:
…after spending three days a week afterschool on the project, the students presented Friday morning the results and implications of the project to school board members, local biodiesel experts and parents.
The team's first two processors failed, but the current processor, a five-gallon reactor, has produced more than 80 gallons of biodiesel fuel, Triplett said…
Porter Yang said the team started its trials in October and began testing the fuel in November.
But the team's first successful batch of biodiesel fuel wasn't created until January.
"We were surprised, but excited," Nou Yang said.
With the successful batches of biodiesel, the students set forth to test the fuel in the high school's activity and yellow school buses beginning in February, Smith said.
Nou Yang said the buses, for two weeks each, used a diesel and biodiesel mix of 5 to 15 percent biodiesel.
The biodiesel managed to improve the buses' mileage, created less pollution and there was less friction in the engine, Nou Yang said.
The test results led the students to recommend building a biodiesel manufacturing plant in order for the schools to save money and to comply with a new state law, Mucheng Yang said.
The state law, which went into effect this school year, requires diesel school buses to use at least 2 percent biodiesel, Hull said.
School officials say they are looking at putting in a refinery to turn the area's waste cooking oil into a steady supply of biodiesel… and the Magic Fuel Bus team aims to be part of that effort.