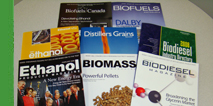 Keep our friends at BBI International… publishers of Ethanol Producer Magazine, Biodiesel Magazine and BIOMASS Magazine… in your prayers, as they've had to temporarily halt operations at their Fargo, North Dakota offices and reduced selected non-essential functions at their Grand Forks office to deal with the record flooding in both cities.
Company officials are promising that production and delivery of BBI's magazines will continue uninterrupted, but some of their other news services, such as e-newsletters, will have to be put hold until the flood waters recede:
"It's all hands on deck," says Joe Bryan, vice president of Media & Events. "In light of record flood crest projections, and to allow our staff and their families time to cope with this emergency, lightening the work load is essential."
Rising water near the BBI Fargo office prompted all staff to evacuate early Thursday morning and it is not known how the office will be affected, or when the staff will be able to return. Grand Forks is protected by a permanent dike, but overland flooding in rural areas is expected to affect several employees. Flooding along the Red River Valley is expected to surpass records set in 1897.
If you're like me, you rely on these guys for some great journalism every day. I know they'll be champing at the bit to get back to their regular jobs, but for now, while they're fighting to save their homes and lives… as well as the homes and lives of their friends and neighbors… they'll have to reduce the number of stories, newsletters and podcasts they're able to crank out. They should be back up to full production no later than April 13th.
Good luck and God bless, folks!