Gulf Ethanol Corporation has annouced the change of its name to Gulf Alternative Energy Corporation. The name change encompasses the added focus of the company's biomass processing technology.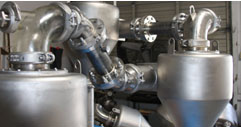 With their main office in Houston, Texas, Gulf Alternative Energy develops cellulosic ethanol pre-processing and production technologies for the ethanol producers in North America. The Company plans to use its patented, exclusive technology to retrofit existing corn-based ethanol plants for cellulosic ethanol production and also for use in the design and construction of its own cellulosic ethanol production facility.
Gulf Alternative Energy is working to transform America's renewable and abundant biomass resources into cost competitive, high performance biofuels such as E85.