Senators John Thune (R-SD), Jon Tester (D-MT), and Saxby Chambliss (R-GA) have reintroduced legislation that would fix the flawed definition of renewable biomass in the Energy Independence and Security Act of 2007.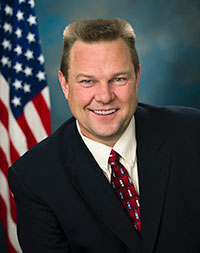 The definition of "Renewable Biomass" in the 2007 Energy Bill excludes any material removed from national forests and most private forestlands. Therefore, cellulosic ethanol derived from this feedstock does not count toward the expanded Renewable Fuels Standard (RFS), resulting in blenders and refiners having no incentive or requirement to purchase biofuels produced from these sources.
The proposed legislation would change the definition of "Renewable Biomass" to more closely conform to earlier versions of the RFS and the 2008 Farm Bill. That would allow pre-commercial and post-commercial waste from national forests to be eligible feedstocks under the definition of "Renewable Biomass" and allows for waste materials to be removed from our public lands which will assist in reducing fire danger.
The Farm Bill also includes several incentives for the production of cellulosic ethanol based on this definition of "Renewable Biomass." These incentives include grants and loan guarantees for cellulosic ethanol plants and provisions of the Biomass Crop Assistance Program.
According to a 2005 U.S. Department of Energy and U.S. Department of Agriculture study, about 2 billion tons of treatable biomass on federal forestland is available for bioenergy production. A significant portion of this biomass could be sustainably removed on an annual basis, not counting post-commercial waste such as wood chips from paper mills.