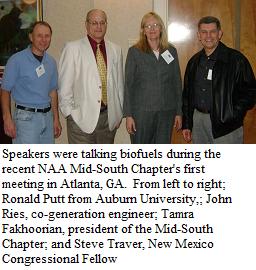 Algae as a feedstock for biofuels, in particular, biodiesel and ethanol, continues to grow in interest… especially in the Southeastern U.S. People from nine different states recently met in Atlanta the first official event of the National Algae Association's new Mid-South Chapter.
A press release from the group says the importance of turning algae into biodiesel can be summed up with the title of the keynote address: "Algae, the New Biocrude":
"The NAA Atlanta workshop was outstanding for me because it accelerated my knowledge of developing algae technologies, potential customers, the competitive landscape, and who the emerging leaders are. Additionally, the workshop afforded some great networking and exchange of ideas. I look forward to attending future events and would highly recommend NAA events to anyone with an interest in algae-based biofuels development as an investor, researcher, algae venture employee/potential employee, entrepreneur, or utility representative," said Dan Berler, chemical engineer/Atlanta.
"The intense interest and interaction of our workshop attendees has confirmed the growing need for more events such as this in the region," observed Tamra Fakhoorian, president of the chapter. She continued, "The NAA Mid-South Chapter is looking forward to serve the growing algae community in the southeastern region of the US by holding similar workshops, conferences and on-site algae production clinics. Our next workshop is slated to be held in Huntsville, Alabama in early June."
The National Algae Association brings together algae researchers and companies to share ideas and exchange information.