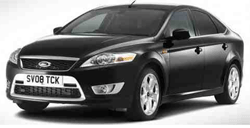 Ford plans to unveil a vehicle that is capable of running on gasoline, up to 85 percent ethanol fuel, as well as LPG (liquefied petroleum gas). The Mondeo will be displayed at the AMI Leipzig Motor Show in Germany starting March 28. The vehicle will be available in a four-door sedan, five-door liftback and in station wagon forms.
According to Ford, when the 2.0-liter Duratec engine uses LPG, the Mondeo Sedan and Liftback models can cover an estimated total of 286 miles. When running on conventional fuel and/or E85, the Mondeo has a range of 529 miles, meaning that the combined range is over 746 miles.
The Ford Mondeo tri-fuel vehicle will be sold in certain European beginning in April.