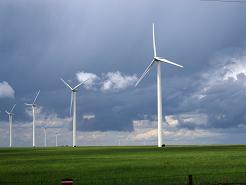 Despite having some pretty wind-swept plains, Nebraska has lagged behind other states in wind energy production… including its closest neighbor to the east, Iowa, which boast the nation's second largest amount of wind energy produced. But that could soon change.
This article from the Omaha (NE) World-Herald says Pres. Barack Obama's push for renewable energy could help Nebraska catch up, while giving the nation's wind energy production a boost:
The push could create hundreds of thousands of jobs in the wind energy industry alone, and experts say there is still time for Nebraska to join in the boom.
"Nebraska historically has been a conservative state, and I think we took a conservative approach to wind," said Dave Rich, manager of renewable energy programs for the Nebraska Public Power District. "We're behind, but we think there are still opportunities for Nebraska."
Wind isn't the only area where Nebraska and Iowa can capitalize on Obama's green jobs push, which began with passage last month of the president's stimulus plan.
The article goes on to point out that wind energy jobs in the U.S. grew from 50,000 to 85,000 during 2008. And if the U.S. gets just 20 percent of its power from wind by 2030, the wind energy industry will grow by 12 times.