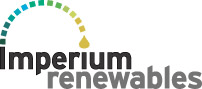 In a bid to stay afloat in these tough economic times, Seattle-based Imperium Renewables has laid off more than half of its staff at its Grays Harbor biodiesel plant.
This story from the Seattle Times says the laying off of the 24 workers is due to the economic downturn and recent tariffs on American biodiesel implemented by the European Union:
The cuts will help it "survive and grow when the market turns around for the biofuels industry," company president and founder John Plaza said in a statement Thursday. He said Imperium faces "dramatically reduced global demand for biodiesel, high feedstock prices and extreme volatility in the petroleum fuel markets."
The latest blow to the company was a tariff imposed this month by the European Union on biodiesel imported from the U.S. The EU said U.S. subsidies on biodiesel allowed producers such as Imperium to undercut European manufacturers.
Plaza said that along with the plunge in energy prices, "the recession has led to a drastic reduction in demand for fuels of all types, but especially for biofuels."
As you might remember, the Grays Harbor plant can produce 100 million gallons of biodiesel annually, but company officials won't say how much it is producing now.