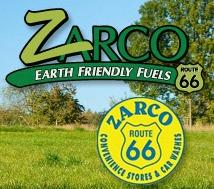 A Kansas biodiesel and ethanol seller has been recognized for its efforts to sell the green fuels in a station that reflects that commitment to a better environment.
Zarco 66, which boast eight gas stations and convenience stores in Lawrence, Kansas, has picked up the Convenience Store Petroleum (CSP) Excellence in Green Design Award for its innovation to bring biofuels to the customer in some pretty green buildings:
"There are so many reasons for any business to incorporate environmentally-friendly practices, but there are even more reasons for fueling stations to start making the transition," Scott Zaremba, president of family-owned Zarco 66, states. "With the volatility of the petroleum industry and foreign oil sources, we are on the front lines of two important battles—the environment and economic preservation."
Putting action behind this philosophy, Zarco 66 launched the Green Energy Gateway station in February of 2008. The company employs the four "Rs": recycling, reducing, renewing, and reusing, to transform an existing site into an eco-conscious location. From offering five grades of biofuel to reducing runoff with a living plant roof and using wind and solar energy to power the station, the Green Energy Gateway location is an example for other businesses on ways to go green.
"We chose Zarco 66 as the winner of this award because they are proof of how one business can make a difference," Mitch Morrison, group editor of CSP, describes. "Scott Zaremba and his team do more than simply offer eco fuels; they educate consumers about the use of alternative energy in their vehicles, at home and at work. It is this type of comprehensive approach that will have the greatest impact on future generations."
Zarco 66 is the first winner of the new award in the category of Excellence in Green Design.