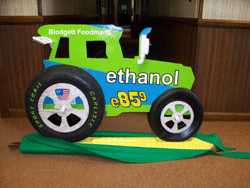 Blodgett Oil Company recently entered a competition to see if their painted "E85 Tractor" entry could win as the "sexiest tractor" at a local Red Cross Tractor Races Fundraiser.
As a Red Cross Tractor sponsor, Blodgett Oil paid $100 and received a cut-out of a plain plywood tractor to decorate in any way they wished. "We chose to promote our E85 product. Our maintenance guy Carl, did a wonderful job!" said Nancy Beckwith, vice president of Blodgett Oil Company. The company owns numerous E85 stations in Michigan.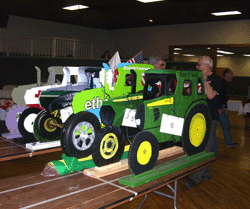 About twenty tractors were entered in the competition. During the race, the tractors were moved along a board game like space in a large banquet room, with the attendee's betting on who will win the race. Whoever had the most bets, won the race. Attendees also betted on the "Sexiest Tractor".
Unfortunately, Blodgett Oil's tractor did not win this year's "Sexiest Tractor" award, but Beckwith said that her company had a blast with our E85 Ethanol tractor appearance which at one time was announced as "the Corn Mobile".
The "Top Money Winner" tractor was: Primerica Financial Services, owned by Art and Nancy McClintic of Alma, Michigan and voted "Sexiest Tractor" for the second year in a row was: Alma Pontiac Buick GMC, Alma, Michigan.
All money raised was donated to the local Red Cross.