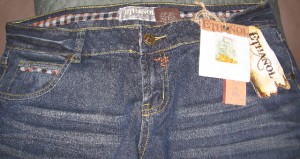 Ethanol debuted on the fashion runway last year…as a pair of jeans. Yes, jeans. Fashion meets environment with these stylish jeans that are made from cotton grown with less pesticides and sold in recycled packaging.
The jeans are branded "ethanol" to the hilt with the buttons sporting a "e," and an ethanol patch on the back. But possibly the best feature is the bag of corn that comes with each pair.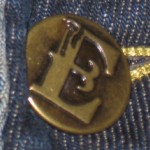 I'm  not sure where to find these jeans and I couldn't find a website for the manufacturer, but this pair was purchased at a Sam's Club. I did however find a youtube video with Jordan Sparks and Jessica Lucas promoting the brand.
The label promotes www.allianceforclimateprotection.com which says that, "A portion of proceeds from the sale of the jeans goes to campaigns to help support environmental programs." When I went to the site there is no information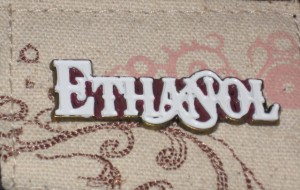 about the clothing line nor the programs that are supported through the purchase of the jeans. I tried contacting the organization but as of press time, haven't heard anything back.
I guess ethanol is not just for cars anymore.