Wind energy celebrated its biggest year in 2008 with 8,000 megawatts being installed–that's a lot of wind. I wanted to learn more about the industry so I caught up with Susan Williams Sloan, the Outreach Manager for the American Wind Energy Association (AWEA) last week during Commodity Classic. .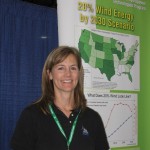 "2008 really was a banner year for the industry," said Sloan. She anticipates that 2009 won't be as big of a year due to the economic situation but does see a bright future going forward citing the provisions in the stimulus package.  
Last year, the industry was growing so rapidly that it could take months to have wind turbines delivered, but this year is different. There is a large inventory of wind turbines available. "The Good News is that there are turbines available for those with projects that are ready to move forward," said Sloan. 
A big challenge for AWEA is building a transmission grid that can help move move wind power from the windy areas to the load centers where people need more electricity. "We must figure out the political issues surrounding moving wind," said Sloan, and assured me that  AWEA will work diligently to ensure an effective transmission grid is developed.
Listen to my interview with Susan here get the full update on the wind industry's efforts. [audio:http://www.zimmcomm.biz/domesticfuel/cc-09-joanna-wind-energy.mp3]