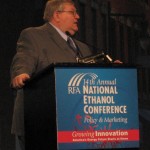 "When the  history books are written, 2008 most likely will go down as an anomaly year, " began John Urbanchuk, Director of LEGC, LLC. Housing market crash. Financial market crash. Global recession. Commodity boom and bust. Wave of bankruptcies. "We slipped into a recession in December 2007, ending a seven year run of economic growth." But, he continued, President Obama, in his address last night, brought back his primary message: hope. 
There are several economic factors that affect the ethanol industry, says Urbanchuk. They include: corn supply and price; economic growth; consumer spending and gas demand; credit availability; oil and gas prices; and inflation. With the recent passing of several economic stimulus packages, along with the consumers driving more and oil prices back on the rise, the economy should see a turn-around by the end of 2009, early 2010.
Ultimately, Urbanchuk says, "The worst is behind us." That's great news for the ethanol industry.
 You can listen to Urbanchuk's comments at the conference here: [audio:http://www.zimmcomm.biz/rfa/nec-09-urbanchuk.mp3]
RFA recently released Urbanchuk's latest economic report, "Contribution of the Ethanol Industry to the Economy of the United States." Click here to download the full report.