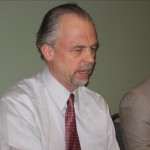 Indirect land-use affects of corn-based ethanol would be "small" reported Thomas Darlington, with Air Improvement Resource, Inc., today during a special press conference as part of the National Ethanol Conference. Darlington has been working with RFA to help legislators, in particular the California Air Resources Board (CARB) and Environmental Protection Agency (EPA) better understand Land-Use Change. Indirect land use research is still in its infancy in terms of the scientific research behind the issue.
The ethanol industry is still awaiting the EPA RFS2 ruling on indirect land-use's role in greenhouse gas effects, and CARB is scheduled to hold a hearing on their final report on April 23-24th. The industry has been working hard to work with organizations to ensure that legislation is not put into place, based on speculation, that would prohibit the growth of biofuels.
Originally, land use change impact was estimated to be large. But Darlington points out that the earlier studies don't take into effect yield improvements and "land use credits" from the use of distillers grains. His research also lays out a "philosophical" assumption that if the U.S. exports are constant or increasing even with ethanol, no international land use effects should be assigned to corn ethanol. This was derived from reviewing past research including Argonne National Labs last Fall. In essence, Darlington's research proves that when taking these elements into account, corn ethanol has a very small impact on land use change and GHGs. 
You can listen to Darlington's comments here: [audio:http://www.ethanolrfa.org/ethanolreport/audio/nec09-darlington.mp3]
To read the full report, go to RFA's website.

See photos from the National Ethanol Conference here.