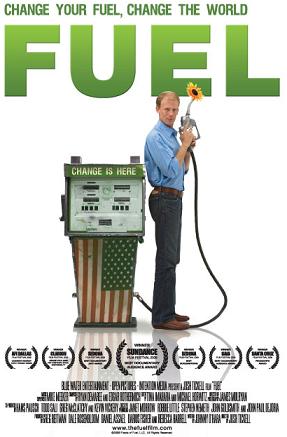 Last year at about this time, you might remember we were talking to movie maker Josh Tickell about his biodiesel documentary, "Fields of Fuel." In fact, Cindy interviewed Tickell right after he showed his award-winning film at 2008's National Biodiesel Conference & Expo in Orlando, Florida.
Now, the winner of the 2008 Sundance Film Festival Audience Award for Best Documentary has shortened the title to simply "Fuel," and the movie is making its debut to a limited number of theaters. The BIOConversion Blog's C. Scott Miller sent us this review on the film:
"Fuel" is the end product of an eleven year odyssey by Director Josh Tickell in his sunflower festooned, diesel Winnebago called Veggie Van. The traveling show that accompanies the movie release promises to capture attention and stimulate grassroots demand to replace fossil thinking, process, and fuels with renewable energy. "Fuel" could become the communications vehicle that educates the public at large of the liabilities associated with fossil fuels and the benefits of home grown alternatives.
The current film is 111 minutes long and full of geology, biology, physics, politics, and history – most of it personal. It is first and foremost the perspective of a 34 year who grew up not knowing any better. He didn't know that he couldn't use the balance of his college student loans to buy a diesel vehicle. He didn't know whether there would be a low-budget, sustainable way to convert restaurant grease and vegetables into fuel to power his transport. He couldn't have imagined that he would spend the next eleven years RVing America. To what end? To what purpose? Quite frankly, when you're 22, who cares.
All he knew was that he wanted to find out if there was a clean alternative to the paradigm that has resulted in the environmental and health disaster of the bayous of his family's native Louisiana. This region, once home to Cajun culture and bayou ecology, is now dominated by the brown fields of the petro-industry with air, land, and water quality contamination that more than likely will never return to normal. In a stark section of the film about hurricane Katrina, Josh shows an on-land oil spill the size of the Exxon Valdez that was left in the hurricane's wake – yet never reported in the mainstream media. Why not? Clearly, the petro industry is a "sacred cow" in the state.
"Fuel" is now playing on a few screens across the country. You can visit the movie's Web site for showtimes and locations and more information.