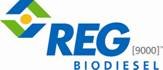 Less than six months after opening a biodiesel plant in petroleum country, Iowa-based Renewable Energy Group has opened its Houston biodiesel facility for 24-hour a day pickup for trucks… the first of its kind in the Houston area.
This story from the Houston Business Journal has details:
"The current market conditions in Texas make biodiesel a tremendous choice for truck stops and petroleum distributors throughout the Gulf Coast," REG Vice President of sales and marketing Gary Haer said.
The Seabrook production facility is capable of producing 35 million gallons a year of B99 or B100 biodiesel, and proximity to diesel terminals allows in-truck splash blending.
Purchasers will receive Renewable Identification Numbers currently worth 20 cents a gallon, and will be exempt from Texas' 20-cents-per-gallon state excise tax.