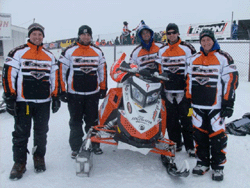 The American Lung Association of Wisconsin will be sponsoring the UW-Platteville Society of Automotive Engineering (SAE) Clean Snowmobile Challenge team in a project designed to inspire students and showcase innovative, cleaner energy technologies. As part of SAE's Clean Snowmobile Challenge, the group modified a stock snowmobile to operate on E85.
Since its inception 10 years ago, the "challenge" of each competition has been for students to modify a stock snowmobile to meet a series of requirements, including air pollution levels. Last year, snowmobiles were required to run on ethanol. This year, snowmobiles must run not just on pure ethanol, but on any blend up to 85 percent, making these true flex-fuel vehicles.
The Environmental Protection Agency (EPA) has managed snowmobile air quality regulations since 2006, according to lead event organizer Jay Meldrum. According to Meldrum, the EPA has established regulations that significantly reduce acceptable levels of hydrocarbons, carbon and oxides of nitrogen in snowmobile exhaust. "Our teams are proving at each competition that we can beat the emissions and noise standards with practical solutions," says Meldrum.
The team has been on the move, promoting their unique machine across the state. The UW-Platteville snowmobile served as the pace sled of the AMSOil World Championship Snowmobile Derby in Eagle River in January, and was displayed at the 2009 Corn/Soy Expo in Wisconsin Dells. This year's competition will be held March 16-21 at Michigan Tech University.