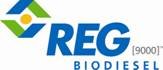 Renewable Energy Group, the leading biodiesel producer and marketer in the country, is helping miners learn how to use biodiesel in their underground operations.
REG will hold a webinar titled, "Biodiesel Utilization in Underground Mines: Successfully Meeting MSHA DPM Requirements" March 5, 2009 from 11 a.m. to 12 p.m. CST.
REG has been successfully supplying biodiesel to the underground mining industry since 2005. Many REG mining customers made the switch from #2ULSD to 100 percent biodiesel in all of their underground equipment in part because biodiesel creates less diesel particulate matter than conventional diesel.
"Biodiesel is one of the tools available to the underground mining industry that has proven effective in reducing DPM emissions," according to a Biodiesel Magazine interview with Bill Pomroy, a spokesman for the Mine Safety and Health Administration. "Inspectors have seen DPM levels drop from 300-800 micrograms per cubic meter of air to 50-200 micrograms. The only change that was made was to switch from straight diesel to B100."
Jon Scharingson, director of marketing at REG will be hosting the educational forum. In the Webinar, Scharingson will focus on how underground mining operations can significantly reduce DPM emissions and integrate B100 into existing infrastructure/engines. Those in the underground mining industry interested in taking advantage of the benefits biodiesel has to provide can also learn how to partner with the biodiesel experts at REG.
There's no cost for the event, but they do ask you register ahead of time. Here's the Webinar mining link. Or, you can call Alicia Clancy at 515-239-8118 to sign up.