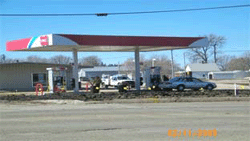 Galva Holstein Ag, LLC has opened their third E85 fueling location in Iowa. The site is located at 211 North Main Street (Highway 59) in Holstein. Other fuels offered include E10, E30 biodiesel and regular unleaded gasoline.
"Honestly, it took us a little longer than we had hoped to get this station up and running this winter," commented Gary Brosamle, Energy Department Manager at Galva Holstein Ag, LLC. "But we are delighted that the site is now operational and excited to offer E85, E30 and higher biodiesel blends to our customers. The Renewable Energy Center is open 24 hours a day and accepts most credit cards including Galva Holstein Ag's local card and CENEX credit cards."
A grand opening is scheduled for May 5 and the date is symbolic. Galva Holstein opened their very first E85 station on May 5, 2005 at 1583 Market Ave. in Galva.
"Three stations in four years is something we are very proud of," noted Anne Johnson of Galva Holstein.