Solar panels are getting smaller and smaller… so small that one day they could be woven into your clothing!
Researchers at two major colleges in Illinois… Northwestern University and the University of Illinois at Urbana-Champaign… are working together to come up with a thin, flexible silicon solar panel. Northwestern's journalism school's paper, Medill Reports, says the new panels will be able to go just about anywhere: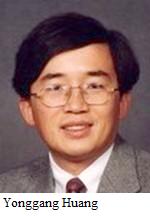 "Our silicon panel is so transparent that you can put it on your window," said Yonggang Huang, an engineering professor at Northwestern.
Traditional silicon solar panels are thick, rigid, and can easily break. They're installed on rooftops not just to collect sunlight but to keep them out of harm's way. The moldable, thin silicon is less fragile because it's flexible.
Besides being placed over windows, Huang said his team's panel could be put on an article of clothing or a car.
Solar panels on one's clothing could store enough power to charge a cell phone, according to Huang.
The technology was announced last October and is now being refined. Researchers plan to submit their findings for peer review in the next few months, according to John Rogers, a University of Illinois engineering professor working with Huang.
Not to be left out, researchers at the University of Chicago are working on making solar panels out of a new polymer… not as efficient and long-lasting as the silicon but much more affordable to produce. The article says Solarmer Energy Inc., of El Monte, Calif., is using the new polymer in a solar cell it is developing.
Either way, it's pretty exciting news!