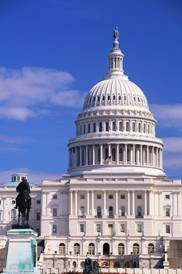 Renewable energy could get a share of the nearly $800 billion in the compromise version of the U.S. House and Senate's economic stimulus bills.

This story from CNNMoney has details:
The provisions in the bill – a deal hammered out between House and Senate negotiators late Wednesday that still needs to be passed by both chambers – will primarily give a major boost to renewable energy, electricity transmission and energy efficiency sectors…
One of the biggest ticket items – at $11 billion – is aimed at creating a " smart" grid, an artificially intelligent electricity transmission system that is necessary to more efficiently transmit electrons, especially from sources such as wind, solar and power stored in batteries. Although in the past decade demand for electricity has grown 20%, the grid has only expanded by about 5%, and that growth hasn't adequately taken into account distributed renewable energy generation…
With record growth to around 25 gigawatts of total wind capacity last year, the U.S. is now one of the world's biggest producers of renewable energy. But between 200 gigawatts to 300 gigawatts of drafted wind projects remain stranded on paper because there isn't the transmission capacity to link them to demand.
The story goes on to say that lawmakers have also put $6 billion in loan guarantees and $2.5 billion in research grants for renewable energy into the bill. The U.S. Senate will take up the measure late Friday (Feb. 13th).