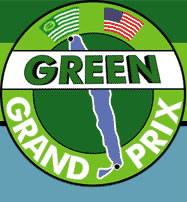 This year's Green Grand Prix is taking a dual-track in the nation's premier event featuring alternatively-fueled vehicles.

This press release says along with the road rally… the signature event for the grand prix… this 5th rendition at Watkins Glen, New York on May 2, 2009 will also feature a new fuel economy competition:
Both road events are open to anyone, and organizers anticipate vehicles that will include all hybrid models, plug-in hybrids, hydrogen fuel cell cars and cars running on biodiesel, diesel, flex-fuel and pure electric. Organizers also expect many other interesting alternate fueled vehicles such as those powered by vegetable oil, as well as by LP and compressed natural gas.
The Doris Bovee Memorial Road Rally is the only official Sports Car Club of America road rally of its kind in the nation. The time-speed-distance rally covers more than 60 miles of scenic roadways…
The new ChicagoSoft Green Grand Prix Fuel Economy Run will offer its competitors the opportunity to set fuel economy records in various categories around the 80-mile perimeter of Seneca Lake. Fuel Economy Run entrants also will return to the Racing Research Center to take part in afternoon festivities.
Registration and more information is available on the Green Grand Prix Web site.