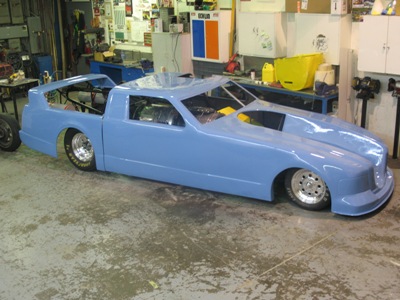 Saskatchewan-based Prairieland Motorsports has unveiled the world's first jet-powered biodiesel truck.
This picture from the Prairieland Web site is the truck in progress. This story from CanadianDriver.com has details:
The truck, named Prairie Gold, was shown at the Manitoba Ag Days in Brandon, and at the Farm Tech Show in Edmonton in January. The body resembles a 2009 Ford F-150 pickup truck, but uses a J60 Pratt and Whitney jet engine, normally found in the U.S. Navy's T-2 Buckeye intermediate training aircraft.
The truck is expected to reach speeds of 402 km/h in about 6.5 seconds on a drag racing track. It will be attending car shows, trade shows and drag races throughout Canada in 2009, including the World of Wheels Show in Calgary from February 19 to 21.
The truck runs on canola-based B100 biodiesel from local biodiesel supplier Milligan Bio-Tech Inc. of Foam Lake, Saskatchewan.