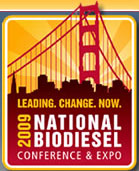 Less than a week away from the 2009 National Biodiesel Conference & Expo, Feb. 1-4, in San Francisco!
Among the headliners for this year's conference are music superstar Melissa Etheridge and movie star Daryl Hannah.
And journalists, if you haven't signed up for the premier event in the ever-growing biodiesel field, try this pitch on your editors: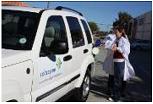 # Driving Green on Biodiesel – Sunday, Feb. 1
Take a spin around San Francisco in Solazyme's Jeep Liberty diesel SUV powered by 100% Soladiesel™ biodiesel derived directly from algae.


# Racecar Driver for a Day! – Sunday, Feb. 1
Here's your chance to don a racing suit, take to the track, and appease your inner "need for speed!" NBB and Volkswagen Motorsports are teaming up to offer members of the media the opportunity to experience the thrills of a biodiesel-powered lap around the picturesque Infineon Raceway in nearby Sonoma, CA. Ride along with professional race car drivers from the SCCA Pro-Racing Volkswagen Jetta TDI Cup Series in their official 2009 series race cars fueled with B5 biodiesel.
Tell 'em how you can give a first-person account of just how powerful a biodiesel-powered race car can be AND report on the smooth performance the green fuel gives to any vehicle on any street. Just make sure you sign up online by January 28th on the media registration Web site.

In addition, starting this Saturday, Jan. 31st, the conference gets a jumpstart a day early as the Sustainable Biodiesel Summit meets for two days at the same location as the biodiesel conference… the Moscone Center in San Francisco:
As you have come to expect, the Sustainable Biodiesel Summit will provide:
*Experienced and Inspirational Speakers from across the Sustainability Community
*Rich & Practical Session Content for Producers, Distributors, and Consumers
*Case Studies on Sustainability within the Biodiesel Industry
*Exceptional Networking Opportunities

And our own Cindy Zimmerman will be there bringing you all the important events as they happen. If you can't attend, be sure to check out all the activities as Cindy talks to the movers and shakers of the biodiesel world. Check it out on the National Biodiesel Conference & Expo blog.