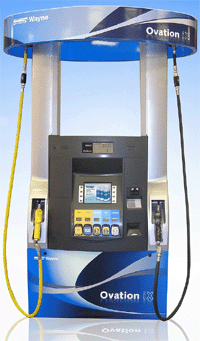 Crescent Oil is advancing alternative fuel infrastructure through the recent purchase of Dresser Wayne Ovation® iX™ fuel dispensers and the Fusion™ Universal Site Controller. The fuel supplier plans to implement more than 600 new dispensers throughout its more than 150 retail locations across the Midwestern United States. As a result, the sites will be able to sell a wide range of ethanol fuel blends and streamline operations with improved payment security and remote management.
"The Fusion controller's technology helps us make the most of our equipment," Phil Near, President of Crescent Oil says. "It is an excellent tool for increasing efficiency and reducing costs." Crescent Oil selected the Ovation iX fuel dispenser for its flexible hose configuration enables the company's retail sites to dispense high blend ethanol fuels for flex fuel vehicles through one hose while dispensing lower ratio blends through another hose. It is the first dispenser to offer blended products on multiple hoses.
"This capability is a significant step toward increasing the distribution of eco-friendly fuels, particularly because many states are beginning to mandate dedicated hoses for high-ratio ethanol fuels," Scott Negley, director of Dresser Wayne North American product management says.