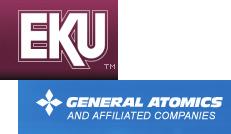 Eastern Kentucky University has teamed up with energy research and defense manufacturing firm General Atomics to look at the potential to develop cellulose-based biodiesel.
This story from the Business Lexington says the partnership will create the EKU Center for Renewable and Alternative Fuel Technologies (CRAFT):
EKU President Doug Whitlock said the project is important to Kentucky's farmers looking for cash crops to replace tobacco as well as making Kentucky a leader in an emergent technology.
"Alternative fuels are going to be a real focus of the Obama administration and for Kentucky, this is a chance to be on the front, cutting edge of a technology that holds a good deal of promise as a source of alternative energy," he said. "It's also exciting for Kentucky farmers. Tobacco is still around but it's not the king of agriculture that it once was so this is an opportunity for life after tobacco."…
There are a number of different sources the research will look at, according to Dr. Bruce Pratt, chair of EKU's Department of Agriculture. Those could include corn fodder, wheat stubble, switch grass, and wood products such as wood chips, saw dust and bark. "We'll take a number different sources of biomass that are high in cellulose and digest that cellulose with an enzyme that will release the sugars in them. We'll take those sugars and use them as a heat source for algae and grow it in vats," said Pratt. "The algae will be fed the sugars and other nutrients they need to grow and multiply."
Pratt added that these specialized strains of algae have a very high content of oil, some much as 60 percent of their body mass. The algae is harvested and the oil is extracted and can then be converted in biodiesel.
Officials hope the project could produce as much as 50 million gallons of biodiesel annually.