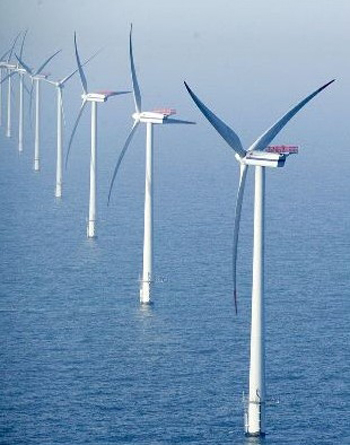 A 130 giant wind turbine project planned for off the shore of Cape Cod, Massachusetts has received the green light from a key federal agency, but it still faces some opposition from one of its powerful neighbors.
This story from the Boston Herald says the U.S. Department of the Interior's Minerals Management Service has given a preliminary approval to the $1 billion Cape Wind project calling it a "milestone" for offshore wind energy:
The decision was expected because a draft MMS report last year had already signaled the agency's favorable view toward the project, which calls for 130 giant wind turbines in Nantucket Sound, costing more than $1 billion.
But there was some doubt that the MMS's final report could be issued before President George Bush left office and before opponents, including some Massachusetts congressional members, could possibly torpedo the project.
Now MMS has release its long-awaited final draft – and it will go through a 30-day review.
Cape Wind still needs to get other government permits. But MMS's OK is considered crucial.
Critics have bitterly denounced the Cape Wind project as spoiling one of the most scenic off-shore sites in America. They've also said it's an unnecessary blight just a few miles off the coast, considering new technology is emerging that could locate wind farms farther out to sea.
Ironically, one of the biggest opponents of the project is Sen. Ted Kennedy (D-Massachusetts), who is a close ally of President-elect Barack Obama… who recently said that wind energy and other renewables are key to the nation's economic recovery (see my post from January 16, 2009). Maybe those two should talk.