Officials in Minnesota say that biodiesel is not to blame for stalling school buses in the bitter, bitter cold of Minneapolis. After temperatures… without the wind chill… dropped to -20 to -30 degrees F, the Bloomington School District had to cancel classes, in part, because a dozen buses wouldn't start.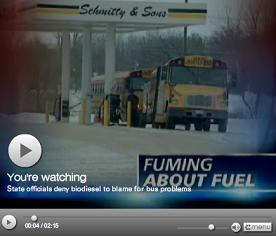 The bus company was quick to blame biodiesel, required by the state to be run in the buses. But this story from Minneapolis TV station KSTP says the cold is the real culprit:
State officials say all diesel fuel gels up in cold temperatures.
Bill Walsh with the Minnesota Department of Commerce said, "It really has nothing to do with the biodiesel. It's a diesel fuel issue in the winter and cold weather."
Officials add condensation getting into storage tanks or a bad blend of biodiesel could have also contributed to the problems.