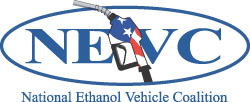 The National Ethanol Vehicle Coalition (NEVC) will be holding their 2008 Annual Board of Director and Membership Meeting at the Renaissance St. Louis Airport on January 26-27, 2009. The NEVC invites all to join automakers, marketers, commodity organizations, retailers, equipment manufacturers and MORE to discuss how to further the use of higher blends of ethanol throughout the country.
A schedule of events will be as follows:
Monday, January 26:
12 p.m. – 5 p.m.: Executive Session for NEVC Board Members
6 – 9 p.m.: Reception (ALL Welcome)
Tuesday, January 27:
8:30 a.m. – 12 p.m.: Executive Session for NEVC Board Members
1 – 5 p.m.: Continuation of business meeting (ALL Welcome)
Guest speakers expected to attend on the afternoon of January 27 include representatives from the Department of Energy, Underwriters Laboratory, Renewable Fuels Association, Flex Fuel U.S., American Coalition for Ethanol, and more. Cost to attend the meeting is $50 per person. Contact Rhonda Beul, rbeul@e85fuel.com, or the NEVC office, (573) 635-8445, to register by Wednesday, January 21, 2009.
Sponsors for the event are: Ohio Corn Grower Assn., Dresser Wayne, Siouxland Energy and Livestock, Kansas Corn Growers Assn, Missouri Corn Growers Assn., John Deere, and Minnesota Corn Growers Assn.