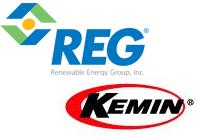 Ames, Iowa-based biodiesel maker Renewable Energy Group Inc. and nutritional ingredient manufacturer Kemin Industries Inc. have finished a study and released the esults of a multi-feedstock biodiesel oxidation.
Biodiesel Magazine reports that for 10 weeks, the companies performed a detailed analyses of oxidative stability characteristics in pure biodiesel (both B100) made from soybeans and a combination of vegetable oil and animal fats:
The research, which was conducted to gain a better understanding of oxidative stability and degradation of multi-feedstock biodiesel in long-term storage, found that in tests simulating extreme storage conditions, oxidative stability decreased rapidly in untreated B100 as measured by oil stability index induction time, Peroxide Value (PV), 1,4-decadienal and Hexanal content.
"Antioxidant treatment delayed these changes," said Glen Meier, REG manager of research and development, said antioxidant treatment delayed the changes. "Results show that dosage rates will depend on the specific biodiesel product and its feedstock composition, as well as the storage and handling protocols in place."
In addition, the group determined that late "rescue" treatments did not eliminate secondary oxidation products, even when oil stability index (OSI) induction time could be increased. As well, it was found that oxidation in products measured indicated changes to B100 that may foster polymer and sediment formation in blends and support earlier use of antioxidants to preserve quality.
The research is expected to help petroleum and biodiesel storers prevent oxidative stability problems in less-than-ideal storage conditions.