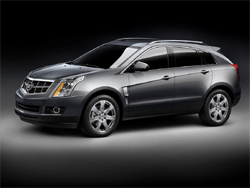 The 2010 Cadillac SRX will officially be announced at the Detroit Auto Show later this month as E85 compatible. The vehicle is intended to serve as GM's newest luxury crossover option. It will be optionally powered by either a 3.0L VVT E85 direct-inject V6 or a 2.8L turbocharged V6. Both engines will have an automatic transmission and are capable of producing anywhere from 260-hp (2.8L V6) to 300-hp (3.0L V6).
General Motors currently has more E85 vehicles on American roads than any other automobile manufacturer. In 2009, they offer the following as flexible fuel: Buick Lucerne, Cadillac Escalade, Chevrolet Avalanche, Chevrolet Express, Chevrolet HHR, Chevrolet Impala, Chevrolet Silverado, Chevrolet Suburban, Chevrolet Tahoe, GMC Savana, GMC Sierra, GMC Yukon, Hummer H2, and Pontiac G6.
Pricing for the 2010 Cadillac SRX has yet to be announced.