Car makers are making more varieties of alternatively-fueled vehicles, and the public is taking note of their efforts.
This piece from Evelyn Kanter of Motor Matters on the Washington (DC) Times site gives a first-person account of impressions of a couple of Japanese alt fuels vehicles that were shown at the recent Los Angeles Auto Show:
The Mitsubishi MiEv — stands for Mitsubishi Innovative Electric Vehicle — is a four-seater mini car and is roomier than it appears partly because the battery pack is under the seats, with a compact 47 Kw electric motor behind it that drives the rear wheels.
Mitsubishi uses an advanced lithium-ion battery. It's smaller, lighter and more powerful than the nickel-metal-hydride batteries that power other electric vehicles. The lighter weight helps improve its top speed of 81 mph.
The MiEv is not merely an upgraded golf cart. This is a real car. The MiEv goes on sale in Japan later in 2009, and plans are to bring it to the U.S. in 2010 when Chevrolet is scheduled to introduce its plug-in Volt. Price isn't set, but a Mitsubishi representative told me that MiEv will be about $30,000 in Japan. It has been in test mode for two years with utility companies in Japan, and two vehicles are being loaned to Southern California Edison for fleet testing.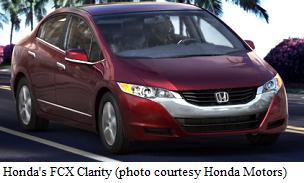 Along with the MiEv plug-in electric, another alternative fuel car that intrigues me is the hydrogen fuel-cell car. Honda's FCX Clarity is the first on the market, and it's a winner. A revolutionary fuel-cell stack design can be placed under the console between the two front seats, compact enough to leave room for cup holders.
Honda uses the dominant hydrogen technology — an electric motor that runs on electricity generated by the fuel cells, equivalent to 134 horsepower. The only thing that comes out of the tailpipe is water, which, I was told, is clean enough to drink by Environmental Protection Agency standards, although I did not try.
Kantor goes on to point out that the Honda has a great look to it, with the luxury of a midsize sedan. And of course, more than 70 miles to the gallon.