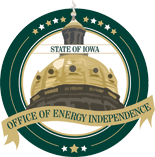 An Iowa agency designed to find the best ideas for energy efficiency and production in the state has released its 2008 Plan for Energy Independence.
This story from the Environment News Service says the Office of Energy Independence has also issued about $6 million for half a dozen renewable energy projects across the state:
Under the plan, Iowa's Office of Energy Independence will enact an energy efficiency portfolio standard, expand energy education, promote smart growth and support workforce development in energy.
Utilities are affected too. The OEI plans to develop coordinated and uniform core utility energy efficiency programs, and it will make energy efficiency the highest priority in utilities' planning processes.
For renewable energy, the OEI plans to promote and ensure long-term growth of large utility-scale wind and promote small-scale distributed generation.
The OEI also intends to promote the development of an environmentally sound biomass industry in Iowa in part by developing a biomass feedstock supply infrastructure for second generation biofuels, such as cellulosic ethanol derived from non-food plants. The plan calls for support for development and deployment of integrated biorefineries.
The article goes on to mention how the Office of Energy Independence is using the Power Fund to provide funding for six projects totaling $5.87 million. Two of the contracts are with Iowa State University… $2.37 million for making ethanol plants more efficient and $1.69 million for more efficient, cost-effective thin film solar cells for solar-electric energy conversion; two contracts with the University of Northern Iowa… $400,000 to create an economically competitive hydrogen fuel cell and $78,681 to develop less costly dye sensitized solar cells; and two contracts with private companies… $250,000 to RENEW Energy Systems of Osage, Iowa to build a mobile biomass briquetter and $1.08 million to Amana Farms, Inc. of Amana, Iowa to turn crop, livestock and industrial waste into renewable energy through anaerobic digestion.