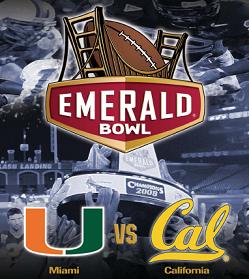 It's the most wonderful time of the year… when football fans like me get to feast on a cornucopia of football games! Basically, from now (and even before) until the first week in January, there will be a steady parade of college bowl games, and one I'd like to point out this year is the Emerald Bowl.
This posting from Greenbang.com says the December 27th game between the Universities of Miami and California played in San Francisco is being 100 percent powered by wind-energy credits bought by Florida Power and Light:
"College bowl games provide a platform to educate fans on climate initiatives, and we feel that the best way we can educate is to lead by example," said Gary Cavalli, executive director of the Emerald Bowl. "With FPL Energy, we will lessen the environmental impact of the game as well as promote environmental awareness to a broad audience of sports enthusiasts."
Befittingly, one of the participants in the game uses a mighty wind as its symbol: the Miami Hurricanes.