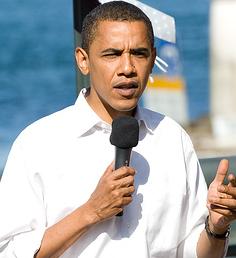 President-elect Barack Obama's promise to make alternative energy a priority could end up being a big boost for the solar power industry.
This story from Mlive.com says Michigan could become the hub for that solar power growth:
Thomas Township-headquartered Hemlock Semiconductor's Corp. announced Monday it will add up to a $1 billion expansion to manufacture polycrystalline silicon, or polysilicon, at its Geddes Road operations in Thomas Township and will open a $1.2 billion plant in Clarksville, Tenn. Polysilicon is a super pure, rock-like material solar panel and computer chip makers use.
Dow Corning also plans for a new plant next to HSC in Thomas Township to produce monosilane gas, which creates a thin film on glass and helps convert sunlight into energy.
Obama's call to expand alternative energy should mean more jobs, leaders hope.
"If he does what is in his energy platform, I'm going to be extremely pleased," said Stephanie A. Burns, president and chief executive officer of Midland-headquartered Dow Corning Corp., majority owner of HSC.
The article reminds us that Obama promised to invest $150 billion over a 10-year span, as well as making sure 10 percent of electricity is generated from renewable sources within four years and 25 percent by 2025.