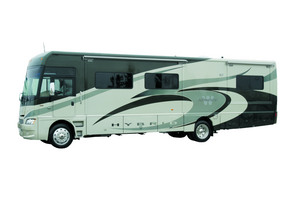 Looking to make a cleaner world and give better mileage to its customers, Freightliner Custom Chassis Corporation (FCCC) has introduced the first hybrid-electric Class A motorhome chassis in the industry.
This company press release says the innovative ecoFRED™ chassis shows significant improvements in fuel economy compared with traditional gas pullers:
Fulfilling the tagline "Driven by You," the ecoFRED prototype was engineered to address environmental and fuel-savings priorities identified by FCCC's motorhome customers. ecoFRED also is in line with Daimler AG's (Daimler) "Shaping Future Transportation" global initiative focused on reducing pollutants and fuel consumption.
Equipped with the Eaton® hybrid-electric system, ecoFRED features all the attributes FCCC customers have come to expect from the FRED™ motorhome chassis.
ecoFRED, so named because of its increased fuel economy and ecological/ environmental benefits, has the additional benefits of significantly less brake wear due to regenerative braking, leading to lower replacement costs. It also boasts better acceleration and increased towing capacity, and operates similar to driving an automatic transmission.
The release goes on to point out that the RV was built in collaboration with Winnebago:
Bob Olson, Winnebago Industries chairman, CEO and president added, "Winnebago Industries has a rich tradition of creating innovative fuel-efficient motorhomes, and we're pleased to have partnered with Freightliner Custom Chassis Corporation on developing the ecoFRED chassis concept used in our Winnebago Adventurer Hybrid concept vehicle."