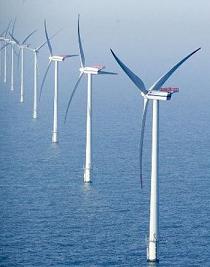 I found a pretty interesting article in Popular Mechanics that outlined some of the issues regarding offshore wind power… namely, the problem of connecting offshore wind farms to make sure that when the wind is not blowing at one location, another offshore wind farm where it is blowing could pick up the slack.
Author Andrew Moseman chronicles some of the problems Europeans have been facing in this arena and how they are overcoming these issues, and he offers ideas on how America can learn from this:
According to the Department of Energy, wind power could supply 20 percent of America's electricity by 2030—and that would include sources offshore. Cape Wind is racing to build the country's first offshore farm in Nantucket Sound off Cape Cod, and Bluewater Wind is navigating the same maze of permits to build offshore wind farms in Delaware and the Northeast. This summer, even New York City's mayor, Michael Bloomberg, proposed wind turbines off Long Island to provide renewable energy to the Big Apple. All of these projects would route power directly to a localized electrical grid—but if offshore wind begins to truly take off, the United States might look to a future European supergrid as an example of how to make the most of a finicky resource.
Pretty good article… give it a read.