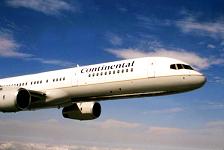 As you might remember from my post back last March 18th, Continental Airlines promised to test a biofuel in one of its commercial jets in 2009.
Now, according to this story in Biodiesel Magazine, the company has set a date:
On Jan. 7, Continental Airlines will conduct the first algae- and jatropha-based biofuel-powered demonstration flight of a U.S. commercial airliner in Houston. Continental is partnering with The Boeing Co.; CFM International, a 50/50 joint company of General Electric Co. and Snecma; refining technology developer UOP, a Honeywell company; algae oil provider Sapphire Energy; and jatropha oil provider Terrasol.
According to Continental Airline's press release, the flight will be the first biofuel flight by a commercial carrier using algae as a fuel source and the first using a two-engine aircraft. A Boeing 737-800 equipped with CFM International CFM56-7B engines will complete the flight.
A blend of 50 percent biofuel and 50 percent traditional jet fuel will be used in one of the two CFM engines. The aircraft will be operating under a specially-issued "Experimental" aircraft type certificate, and will be flown by Continental's FAA-licensed test pilots. There will be no passengers on the plane.
The article goes on to say that they'll put the algae-biodiesel through the wringer, testing the green fuel during power accelerations and decelerations, in-flight engine shut-down, restart, and other flight maneuvers that include both normal and non-normal procedures. Officials expect the fuel will be able to be substituted for regular jet fuel without any loss in performance and/or safety… while also flying greener.