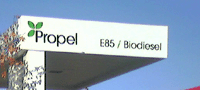 Propel Fuels has opened their first publiclly accessed E85 facility in the Sacramento area. The Rocklin 76 station is located at 6700 Five Star Blvd. in the city of Rocklin. The station also offers gasoline and biodiesel under their canopy. It is located in a highly traveled shopping and highway area.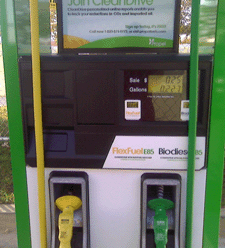 Propel builds, owns and operates a growing network of clean fueling points. The Rocklin facility is the first of theirs to offer E85 but the group has six additional sites that offer biodiesel. Seven fueling sites will open soon and will carry biofuels in the cities of Citrus Heights, Sacramento, Elk Grove, Roseville and Placerville. The group's goal is to provide an easy access to high quality clean fuels, and quantify the positive impact of your fuel choice.
There are now about 13,000 flexible fuel vehicles registered in the Sacramento area.