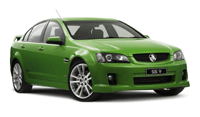 GM-Holden will soon be offering its Commodore as E85 compatible in Australia. The group says that biofuels will become a leading alternative fuel for the company.
"We are committed to having locally built Holdens running E85 in the market by 2010," said GM-Holden managing director, Mark Reuss. "Ethanol is a renewable fuel and the costs are relatively small to modify existing technologies to make it viable. It has great potential, particularly the ability to produce it from waste."
The company is also in discussions with with biofuels company Coskata in the US to build the first local cellulosic ethanol plant in Australia.
"The key to success will be innovation and an eye for using less foreign oil by increasing efficiency or replacing it altogether with Australian energy alternatives," Reuss added.