Los Angeles wants to become a hub of the solar energy industry.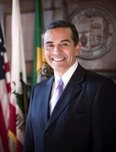 This article from the LA Times says Mayor Antonio Villaraigosa has unveiled a long-range to have solar power meet one-tenth of the city's energy needs by 2020, an initiative that is expected to help the city's Department of Water and Power kick the fossil fuel habit:
The plan calls for enough solar panels to produce 1,280 megawatts of power, a goal that would be reached through a combination of private and public generating facilities and the installation of solar panels on homes.
"Nobody's contemplated that many megawatts for one city," said Rhonda Mills, Southern California director of the Center for Energy Efficiency and Renewable Technologies and a solar power advocate.
The announcement Monday is the latest in a series of renewable energy initiatives touted by the mayor in recent weeks, including using redevelopment funds to lure "clean" technology companies and investing city pension dollars in environmentally friendly companies.
Shifting Los Angeles to cleaner fuels could buttress both Villaraigosa's run for reelection and any future run for governor. If he runs in 2010, Villaraigosa would likely face state Atty. Gen. Jerry Brown, an avid environmentalist.
"L.A. has everything it takes to make this [solar plan] work," said Villaraigosa, standing alongside environmentalists, union leaders and City Council members. "We have the sun in abundancy. We have the space. We have the largest municipal utility in the country."
Most of the solar power would come from private companies operating in the Mojave Desert with the balance coming from rooftop panels at businesses and private residences.
You can read the complete plan for yourself by clicking here.