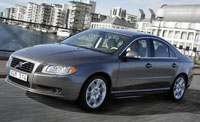 Although the fuel has been available at a couple locations already, Thailand has had no vehicles that could use E85. Now, however, Volvo Thailand has launched the first flexible fuel vehicle.
According to the Nation, the S80 2.5 FT is the first car available in Thailand, made locally, can use any fuel ranging from 91- and 95-octane fuel to E10, E20 and E85. The vehicle is expected to attract those who would like to not only 'go-green' but also lower their fuel costs. The C30 1.8 from Volvo is also E85 compatible but is fully imported. The C30 will be a cheaper option for those willing to go green.
It is anticipated that about 15 E85 stations will be open in Bangchak by next year. "Although having more E85 pumps will allow the user to take full advantage of the vehicle, it is important to remember that a flex-fuel vehicle can run on any blend of petrol and ethanol or even pure petrol, which makes it very versatile. The Volvo S80 2.5 FT is an option for companies that want to acknowledge their environmental responsibility, as E85 produces 60 to 70 per cent less greenhouse gas than petrol," said Paul Stokes, president of Volvo Cars Thailand.