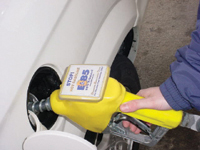 Fastrac Market on Route 481 in Fulton, NY now has E85. This is Oswego County's first E85 fueling pump. The fuel is manufactured by Northeast Biofuels in the Town of Volney.
"Over the summer, Fastrac Markets was proud to purchase the first ethanol produced at Northeast Biofuels to blend as E10 for sale at our stations throughout upstate," said Fastrac President Thomas Waddle. "And now, we are just as proud to sell Northeast Biofuels ethanol as part of an E85 blend at our newly expanded service station in Fulton."
According to the Valley News, Northeast Biofuels General Manager Brian Roach said the E85 pump is another step in the continuation of the state's biofuels industry. He also emphasized the importance of marketing ethanol through local retailers.
"Northeast Biofuels had made a commitment to do business with local supplies, and having a forward-looking retailer like Fastrac as a customer and partner will help us to do just that," said Roach. "For Northeast Biofuels to be a success, we need to be able to market our ethanol as close to home as possible."
There are now 32 E85 locations in the state of New York.