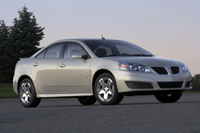 The Pontiac G6 will soon be E85 compatible. According to Automobilemag.com, among other changes, the model will soon be flexible fuel.
Upgrades to the current G6 will include a sportier front and rear fascias, inspired by the G8 design, a reimaging on the interior, and a better integration of the various entertainment and comfort options.
The G6 coupe will also have the option of receiving the four-cylinder 164 hp 2.4-liter Ecotec engine. The Ecotec engine provides improved fuel efficiency of 33 mpg. An E85-capable engine will also be offered in areas where the fuel is readily available. Still offered for the G6 is the optional 222-hp 3.9-liter V-6 for the G6 convertible as well as the standard 252-hp 3.6-liter V-6 for all GXP models.
"The G6 has always been one of our most important vehicles and has been Pontiac's number-one seller since it was launched in 2004," said Susan Docherty, vice president of Buick-Pontiac-GMC. "As the most complete family of mid-size vehicles available in the marketplace, the new enhancements for 2009 will further solidify the G6's reputation for sporty style and handling without sacrificing value and fuel efficiency."