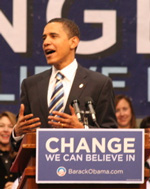 President Elect Obama has vowed that half of all 'cars purchased by the federal government will be plug-in hybrids or all-electric by 2012'. These vehicles may likely include E85 compatible models.
According to EV World, the base engine could be an E85/gasoline version of a small I-4, similar to the 100 bhp unit in the Chevrolet Volt. The optional more powerful engine might be a turbocharged version of the same engine, producing some 150 bhp on gasoline and 180 bhp on E85. Perhaps surprisingly, the more powerful engine should use less E85 than the base engine when cruising because it will have properly implemented flexible fuelling, unlike most other systems claimed to be optimal.
General Motors debuted the Volt in September and touts that it delivers up to 40 miles of gasoline- and emissions-free electric driving, with the extended-range capability of hundreds of additional miles. It will be available in 2010.