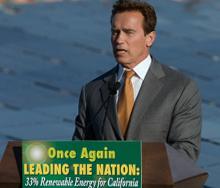 The Governator wants his state to get more of its energy from renewable sources.
California Gov. Arnold Schwarzenegger has issued an executive order that ups his state's renewable energy goal from 20 percent by 2010 to a full one-third by 2020. His press release has details:
"I am proposing we set the most aggressive target in the nation for renewable energy-33 percent by the year 2020-that's a third of our energy from sources like solar, wind and geothermal," Governor Schwarzenegger said. "But we won't meet that goal doing business as usual, where environmental regulations are holding up environmental progress in some cases. This executive order will clear the red tape for renewable projects and streamline the permitting and siting of new plants and transmission lines. With this investment in renewable energy projects, California has a bright energy future ahead that will help us fight climate change while driving our state's green economy."
The Governor made today's announcement at the site of OptiSolar's new plant in Sacramento, which will begin manufacturing solar panels in early 2009. When fully built out, the one-million-square-foot plant will be the largest photovoltaic solar panel manufacturing plant in North America, providing 1,000 green jobs and producing approximately 2,000 solar panels per day.
Schwarzenegger says he'll need to propose new legislation to make the new standard a reality while also putting in safeguards for low-income customers.