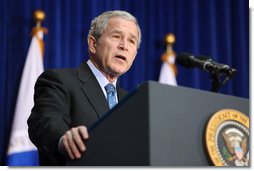 Renewable energy sources are important to the U.S., especially during the upcoming period of holiday travel.
President George W. Bush was at the U.S. Department of Transportation today, talking about how his administration will step up efforts to ease holiday travel woes this year. While at the DOT, Bush praised the good biodiesel and ethanol are doing for fuel supplies:
By dramatically boosting our output of clean-burning biodiesel and ethanol, providing tax credits for the purchase of low-emission hybrid vehicles, and investing in technologies like advanced batteries and hydrogen fuel cells, the department can be proud of the ways in which we have made America's transportation system safer, cleaner, and more effective.