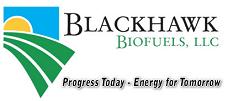 Blackhawk Biofuels has announced it will cut the ribbon on its newest biodiesel plant this coming Wednesday (Nov. 19) in Danville, Illinois, with production at the 45-million-gallon-a-year facility to start the next day.
This story in TradingMarkets.com says the plant will at first use soybeans from Bunge Milling, adjacent to the biodiesel plant:
The cost of soybeans, which had skyrocketed in recent years, had kept the facility's construction from completion before the new investors took over, Vermilion Advantage President and CEO Vicki Haugen said in May.
Although soybean prices have fallen, the plant will help the local ag economy by allowing farmers to sell their soybeans at a good price in Danville, according to Vermilion County Farm Bureau spokesman Tom Fricke.
The plant's biodiesel would be created from Bunge's soybean oil and eventually, alternative feedstocks like animal fats.
The article goes on to say that Blackhawk has an agreement with Iowa-based Renewable Energy Group to get the animal fats needed. Private investors put in $25 million, while the State of Illinois kicked in another $19.8 million to make the refinery a reality.