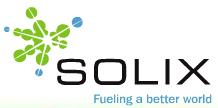 A Fort Collins, Colorado biofuel company will build an algae-biodiesel plant on an Indian reservation in southern Colorado.
Solix Biofuels has announced it has raised $10.5 million in funding with another $5 million commitment from investors to build the facility on 10 acres on the Southern Ute Indian Reservation. This story on Colorado.com has details:
The plant will be jointly developed by Solix and Southern Ute Alternative Energy LLC.
"We're able to use the resources available, lots of sun, lots of land that has no other real use because it's desert and the available saline water and the CO2 from the industrial plant," said Bryan Willson, co-founder and chief technology officer for Solix.
A large research and development effort will remain in Fort Collins.
The Durango facility will be a significant advancement for Solix, according to the company, providing the capabilities to produce thousands of gallons of algae-based biofuel at a rate per acre higher than current projects.
Currently, algae grown in Solix photo-bioreactors create five times the amount of fuel per acre of land per year than agriculture-based fuel such as corn-based ethanol and soy- or canola-based biodiesel, according to the company.
Company officials say the facility won't be on a largescale right away but is hoped to set the stage for a much bigger operation in the future.